HOW TO MAKE SPINACH ARTICHOKE BITES:
We love that these tiny spinach cups are simple and quick!! Here is what you'll need to do to make them:
Begin by mixing the dip ingredients, which include:
frozen spinach, thawed
artichoke hearts, drained and chopped
minced garlic
Parmesan cheese, grated
cream cheese
Mozzarella cheese, shredded
garlic salt
Set the dip ingredients aside and cut crescent dough into 2 inch squares and place in a greased mini muffin tin.
Fill each cup with a spoonful of the dip mixture and sprinkle with Mozzarella cheese. Bake at 375 for 15 minutes and let cook for a few minutes before removing from muffin tin. Serve warm and try not to eat a dozen in one sitting. 
CAN SPINACH BITES BE MADE AHEAD OF TIME?
Yes – indeed! Just refrigerate for up to 24 hours before baking. Be sure to cover and place in fridge. You may need to add a few extra minutes to the cook time.
HOW TO STORE SPINACH BITES?
Place in airtight container and reheat in microwave when ready to enjoy. To freeze, place in an freezer safe Ziploc bag and let thaw overnight in fridge before reheating.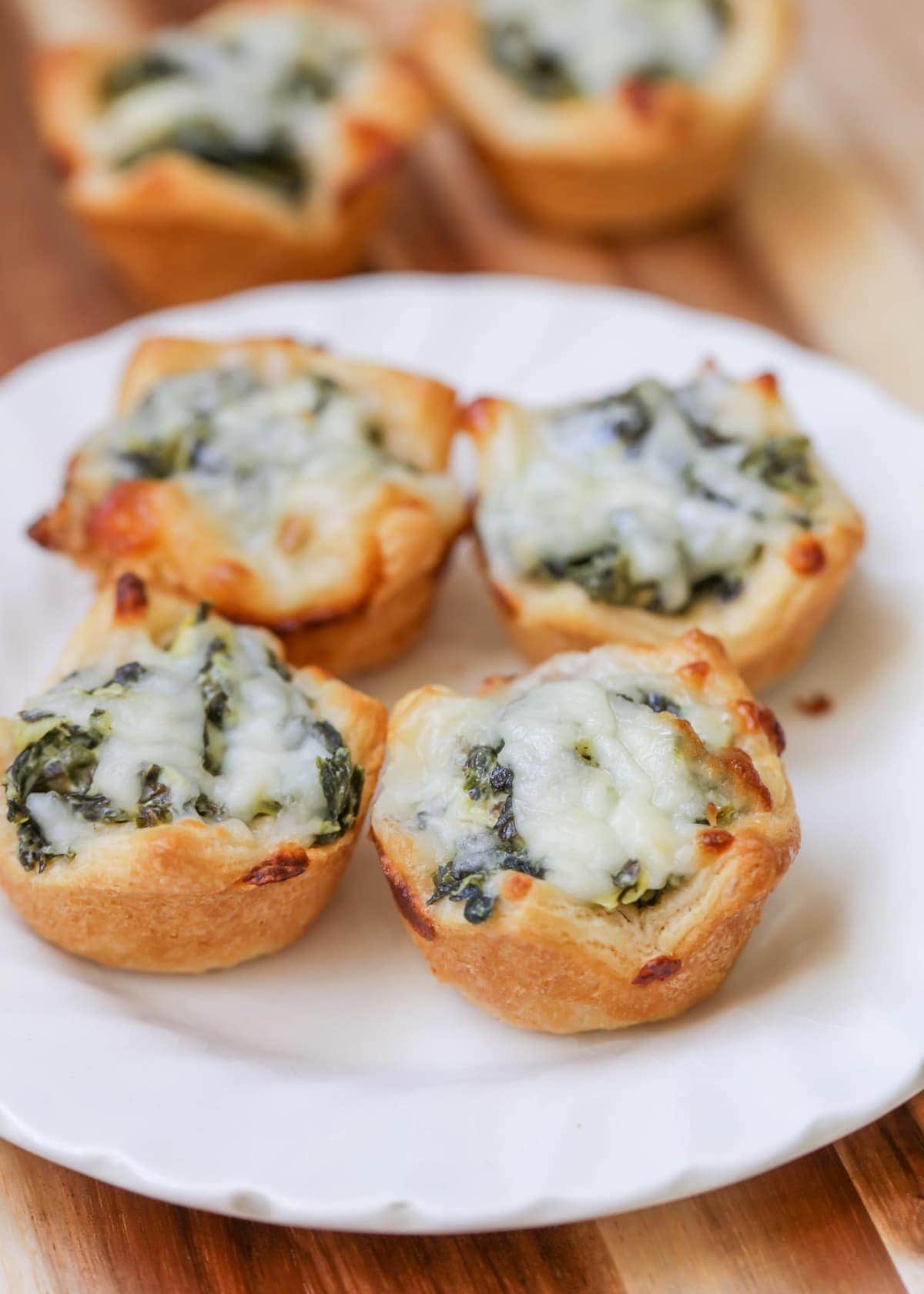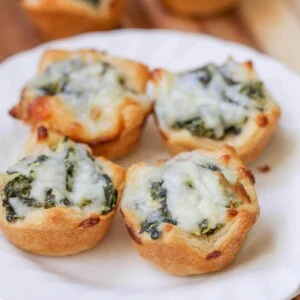 SPINACH DIP BITES RECIPE
This favorite appetizer is filled with spinach, artichokes, and three different cheeses, all baked into a crescent dough cup. Spinach Dip Bites are a hit every time they're served at a party or get together!
INGREDIENTS
2

 

cups

 

frozen spinach

 

chopped and thawed

6

 

oz

 

artichoke hearts

 

drained and chopped

1/2

 

tsp

 

garlic

 

minced

2

 

tbsp

 

parmesan cheese

 

grated

4

 

oz

 

cream cheese

 

softened

3/4

 

cup

 

mozzarella cheese

 

shredded and divided

1/2

 

tsp

 

garlic salt

pepper to taste

1

 

can

 

seamless crescent dough
INSTRUCTIONS
In a bowl, combine spinach, artichoke hearts, garlic and Parmesan cheese. Blend in cream cheese and half of your mozzarella cheese. Season with Salt and pepper and set aside.

Using a rolling pin, lay out dough on a cutting board and lightly stretch to a 8 x 12 rectangle. Cut dough into 2 inch squares, so you have 24 squares total.

Lightly grease a mini muffin tin and place a square in each slot, gently pushing down to create an indent. (you don't need to mold to the cup.)

Scoop one teaspoon of your spinach mixture on top of each crescent square and gently push in, (bites will mold to your tin while baking). Spread the remaining mozzarella cheese over the tops of each cup.
Bake at 375 for 15 – 17 minutes, until golden brown. Let cool for 5-10 minutes before moving from tray. ENJOY!