Chicken Marsala with Cauliflower Rice
INGREDIENTS IN CHICKEN MARSALA:
Chicken
Mushrooms
Marsala cooking wine
Chicken broth
Heavy whipping cream
Ground mustard, garlic powder, and parsley
Salt and pepper
Olive oil
Typically chicken marsala is served rice or pasta, but because we want to keep things low carb, so those on the keto diet can enjoy this fantastic dish, I opted to serve it over cauliflower rice instead. And my oh my, what a great dish this turned out to be. When I made it a second time to make sure the recipe worked well, I didn't hear a single complaint from my family.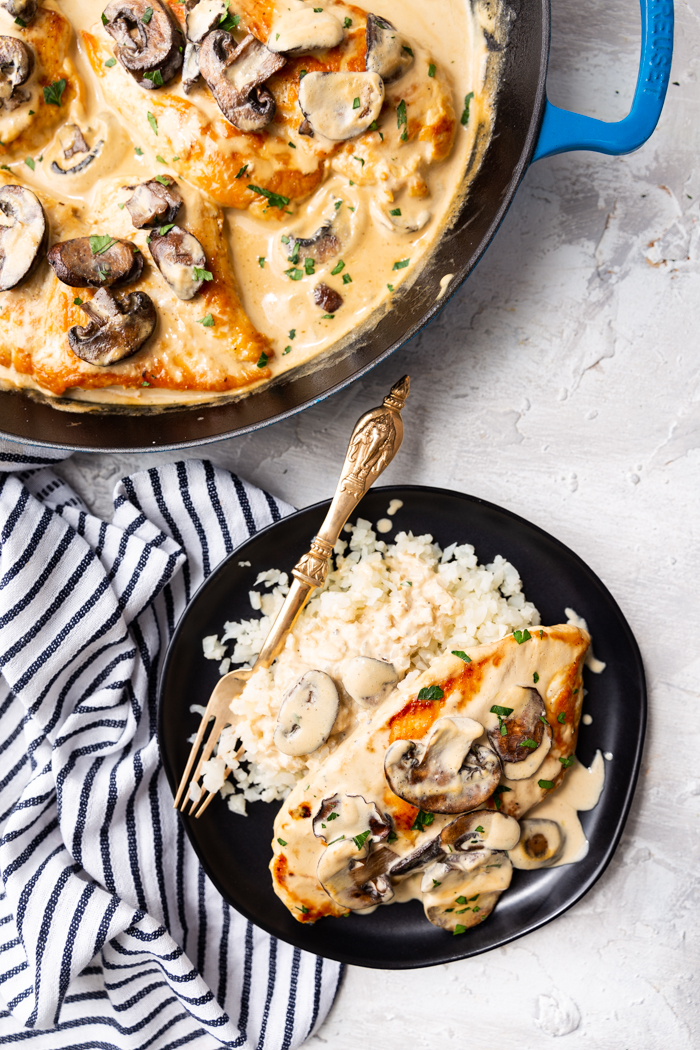 LOW CARB OR KETO DIET FRIENDLY
One of the things I love about this particular chicken dish is how it is indulgent and delicious, but still works in a low carb or keto diet lifetstyle. The chicken and sauce are a great mixture of fats and proteins, and because it is served over cauliflower rice, you don't end up with a great deal of extra carbs. But you still get those flavors you love, and the satisfaction of a totally filling meal.
If you are not on a low-carb diet, try this chicken marsala over pasta or white rice. You will love it. The creamy sauce is the perfect addition to the meal.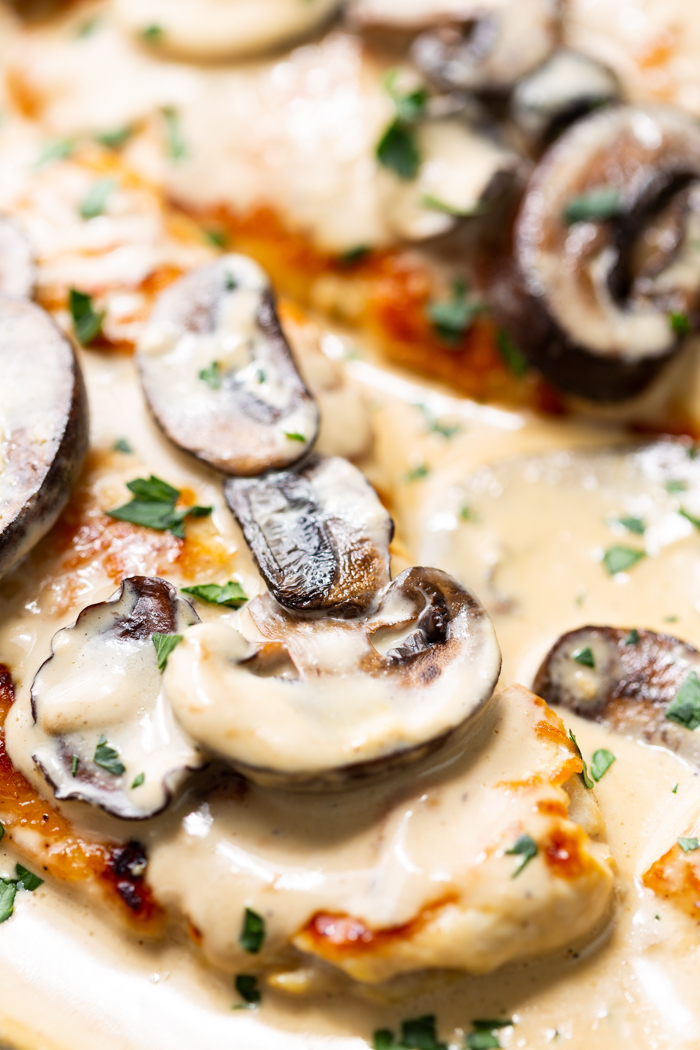 WHICH WINE IS BEST FOR CHICKEN MARSALA?
You have some options when it comes to making a Marsala sauce for chicken.
In this chicken Marsala recipe I use the cooking wine version of the Marsala wine that you can get at any grocery store, even the grocery stores that don't sell liquor usually have this cooking wine on hand.
So, the good news is you can pick up all your ingredients for this dish all in one stop.
When looking for a Marsala wine, dry Marsala is the typical choice for a chicken Marsala recipe.  A sweet Marsala is typically used in desserts, and would be much too sweet for this dish.
Fortunately, you don't need to spend tons of money on the finest Marsala to make a good chicken Marsala.
Now, what if you don't have Marsala on hand and don't want to go to the store?
I get it, you may not feel like going to the store for one ingredient.   Don't worry there are some acceptable alternatives that can be used in place of a dry Marsala wine for this chicken Marsala recipe.
These alternatives may not taste exactly like a Marsala, but they will do in a pinch.
WHAT CAN I SUBSTITUTE FOR A MARSALA WINE?
Amontillado wine
Medeira wine
Non alcoholic substitute: 1 Tbs vanilla extract, 1/4 c white grape juice, 2 Tbs sherry vinegar
Any of these substitutions would work fine and taste delicious with this chicken Marsala recipe, but I must warn you that the flavor won't quite be the same as if you had used a Marsala wine.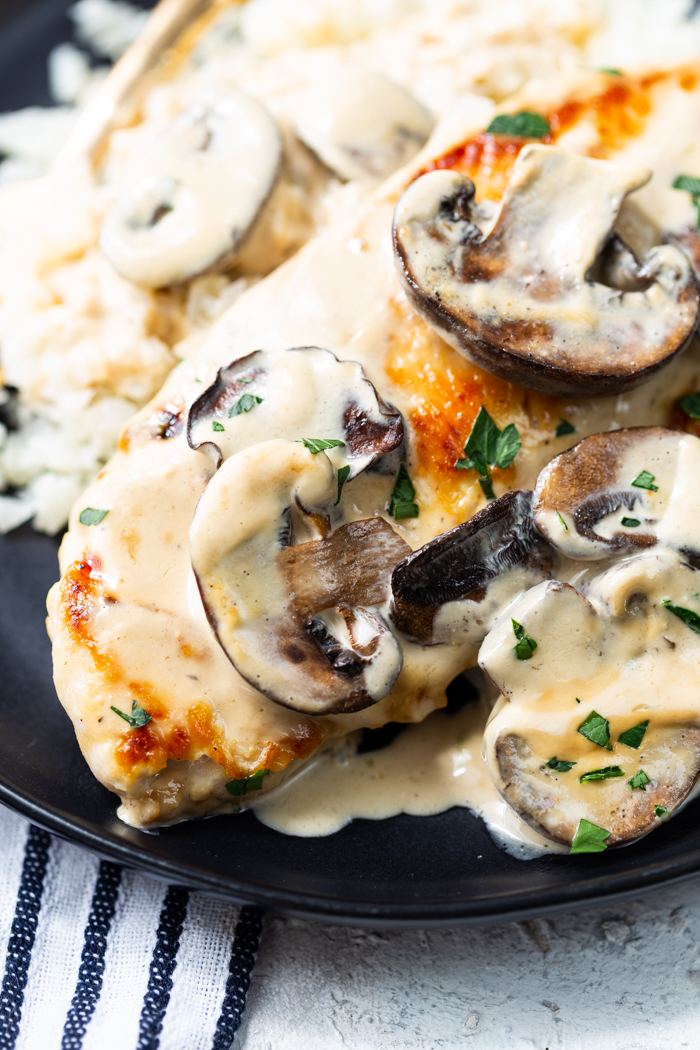 CAN I USE RED WINE FOR MARSALA WINE?
When looking through your cupboard to see if you already have the ingredients to make chicken Marsala, don't make the mistake of thinking you can sub out any wine for another.
Although, as already mentioned, there are other wine substitutions for Marsala, red wine is not one of them.  Red wine tends to be more acidic than Marsala wine, making it not a good substitution option.
CAN I USE CABERNET INSTEAD OF MARSALA?
Absolutely!  If you have Cabernet on hand and don't want to run to the store, you can use Cabernet for this Chicken Marsala recipe.  The flavor will change, but it will still be a good dish.
Chicken Marsala, A Great Dish For Any Night Of The Week!
When you are in a hurry, or just looking for a tasty Italian favorite, or need a quick weeknight meal, this chicken marsala is a great option that does not requires a lot of prep.
Chicken Marsala is full of flavor and a meal that you will want to eat again and again.
Looking for other Italian favorites? Try my Traditional Lasagna or Italian Chicken Meal Prep Bowls.  Both are fabulous dishes.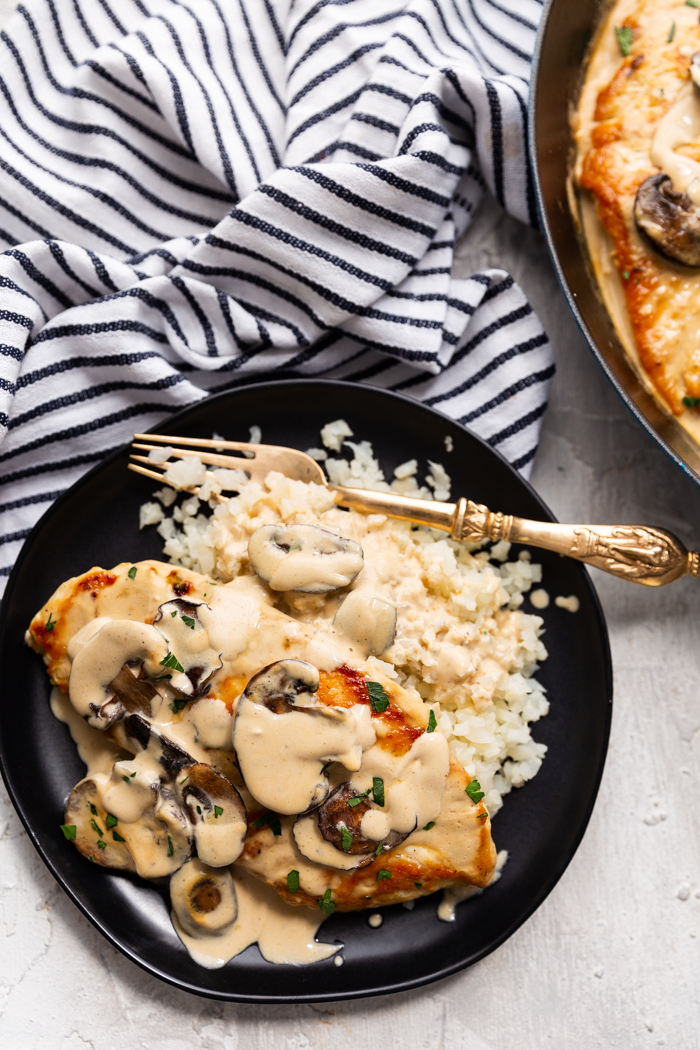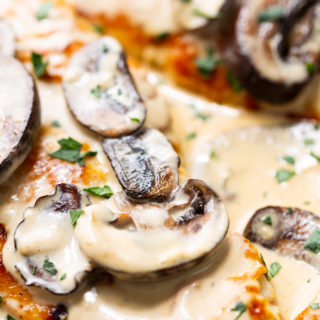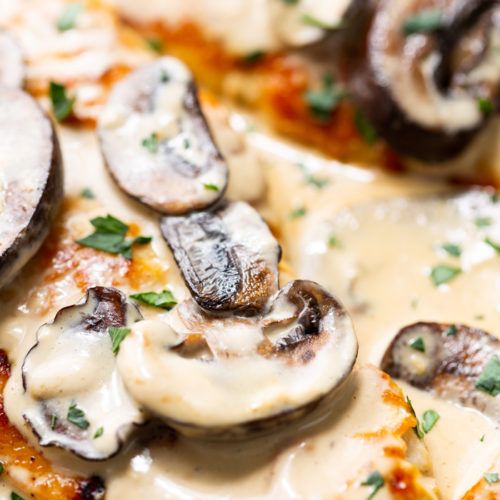 Chicken marsala with cauliflower rice
This low-carb Chicken Marsala is so good you won't even notice that it's keto. It's easy and delicious, but perfect for any dinner.
Ingredients
4

 

boneless skinless chicken breasts

 

thinly sliced or pounded thin*

salt and pepper

2

 

tablespoons

 

olive oil

1½

 

cups

 

mushrooms

 

sliced

½

 

cup

 

Marsala cooking wine

½

 

cup

 

chicken broth

1

 

cup

 

heavy whipping cream

1

 

teaspoon

 

ground mustard

1

 

teaspoon

 

garlic powder

1

 

Tbs

 

Fresh Parsley

 

Chopped

12

 

ounces

 

Cauliflower rice
Instructions
In a large skillet over medium heat add 1 tablespoon olive oil to the skillet.

Lightly season the chicken with salt and pepper, then add to the skillet.

Cook until lightly brown and cooked throughout, approximatley 6-7 minutes per side. Remove chicken and set aside on plate.

Add 1 Tablespoon olive oil and sauté the mushrooms for 1-2 minutes.

Add marsala wine and bring to a boil over medium high heat for 1-2 minutes.

Add the chicken broth, heavy whipping cream, ground mustard, and garlic powder. Bring to a boil and reduce heat and simmer for about 10 minutes or until it starts to thicken.

Place chicken back in the sauce and continue to simmer for about 1-2 minutes.

Garnish with fresh parsley, and serve.
Nutrition
Calories: 
319
kcal
 | 
Carbohydrates: 
8
g
 | 
Protein: 
18
g
 | 
Fat: 
21
g
 | 
Saturated Fat: 
10
g
 | 
Cholesterol: 
102
mg
 | 
Sodium: 
194
mg
 | 
Potassium: 
594
mg
 | 
Fiber: 
1
g
 | 
Sugar: 
3
g
 | 
Vitamin A: 
13.2
%
 | 
Vitamin C: 
37.8
%
 | 
Calcium: 
4.2
%
 | 
Iron: 
4.4
%