14 Tiny Countries That Are Big-Time Destinations
International vacations are work in their own right. You've gotta schedule time off, maybe you've gotta update your passport, haggle with airlines, pack a giant suitcase. For such a production, you wanna go somewhere name-brand, somewhere full, somewhere BIG. Where you can pack a week with sights both natural and urban, meet a ton of people, eat your way around a capital-c Cuisine.
Ah, but what about the tiny countries? The underdogs? The Olympics are the season to celebrate them, especially when the likes of Kosovo and Slovakia are winning summer gold, and when a shirtless taekwondo qualifier can set the world to Googling "Where is Tonga?" (We considered Tonga for this list, but settled on a couple of other Pacific paradises instead.) Small nations can pack just as much verve as you'd find in countries 10 times their size — and, for the traveler, they offer the possibility to feel like you've actually done a place to satisfaction.
They're not places you'll stumble across, and rarely will you pass through them on the way somewhere else. But despite being geographically wee (or, in one case, uniquely vacant) they're all worth a visit on their own. We tapped our army of global travelers to give us the firsthand lowdown on the best small nations to take a chance on.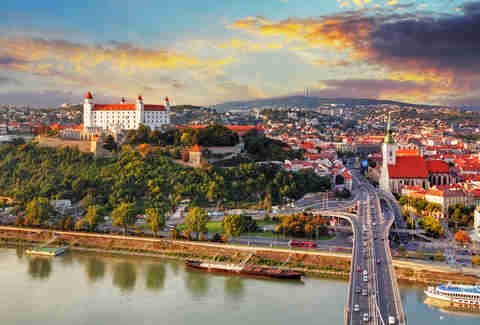 Slovakia
How tiny it is: 18,932 square miles
Or, roughly: Vermont spooning New Hampshire
Tiny fact: Its 1993 break from the Czech Republic is called the "Velvet Divorce."
Slovakia inherited some of the best aspects of its five neighbors, enjoying Czech-style brewing, Polish diligence, Austrian architecture, Ukrainian good looks, and Hungarian stews. The one thing Slovakia can claim outright is the fact that it's an undiscovered travel jewel. Culturally and geographically diverse, it's simply a beautiful bargain; to visit now is to experience classic, '70s style Europe for a third of the price of nearby destinations. Slovakia blends the best of romantic Europe — picturesque countryside, a charming capital city, ghostly castles, Renaissance churches, divine food and period-perfect museums — with the eastward-expanding European Union. I found Bratislava to be chilled out, as I didn't hear one car horn or a person sounding like one. There, a woman's Slovak-to-English musings urged me to exercise my feet and my imagination: "You have to use your fantasia."
Seventy percent of Slovakia is mountains. Passing through its knobby High Tatras region, it seems as if every 10th peak has a 14th-century medieval castle upon it. The big daddy of these eerie sites is Spiš Castle, central Europe's largest medieval fortress compound. First built in 1209, it was wrecked by 13th-century Tatars, and rebuilt in the 15th century. Partially in ruins, it dominates the landscape from miles away. It made me ponder phantoms, and life before remote controls, in all their forms. – Bruce Northam, Thrillist contributor
Singapore
How tiny it is: 278 square miles
Or, roughly: New York City
Tiny fact: Singaporeans are the fastest walkers, on average, in the world.
Known as the "Little Red Dot" of Asia, Singapore sheds its squeaky-clean image once the searing-hot sun goes down. Forget about the Singapore sling — that syrupy cocktail is for touristy n00bs only. Locals prefer sipping crisp cocktails atop a gleaming skyscraper or gulping down an ice-cold Tiger Beer over their sixth meal of the day. (Seriously, people love to eat here. The city-state is home to some 6,000 hawker stalls alone, two with Michelin stars.) And it's not just about the weekends: Wednesday and Thursday ladies nights are very much a thing, with many a bar plying their female clientele with free booze.
The best part of a big night out in Singapore? Arguably the best late-night eats in the world. Post-nightclub "suppers" are a way of life. Think 24-hour dim sum, slurping down pork-laced noodles, or soaking up that last drink you didn't really need with chicken rice. On the off chance you do wake up hungover, there's hope in the form of the neighborhood kopitiam, or local coffee shop. A zingy-sweet kopi and a few bites of kaya toast-plus-runny egg could be just the fuel you need to start the madness all over again. — Hannah Bae, Thrillist contributor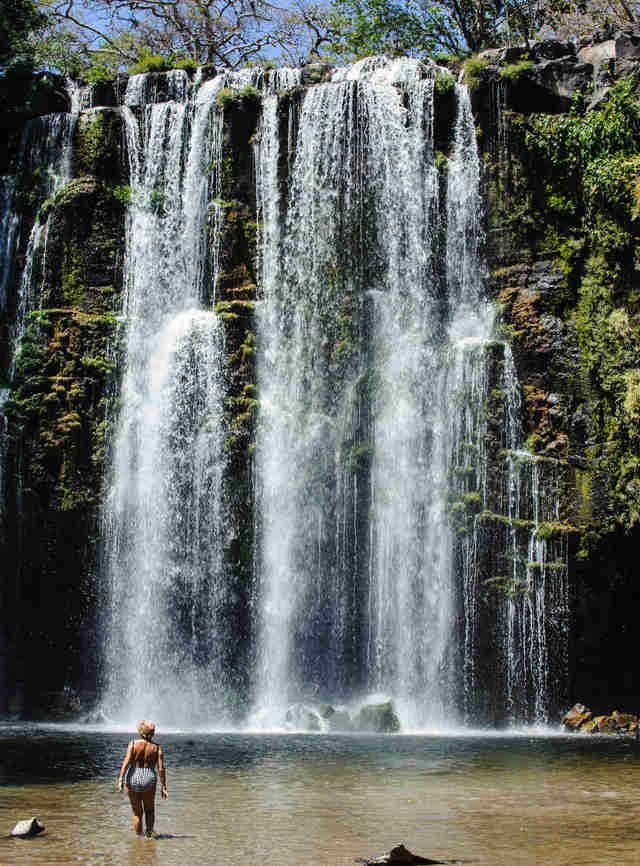 Costa Rica
How tiny is it: 19,653 square miles
Or, roughly: Two Vermonts
Tiny fact: It's home to one-tenth of the world's butterfly species.
If you've ever felt like surfing in the morning, spotting a sloth dangling in the rainforest in the afternoon, and relaxing in volcanically heated hot springs at night, Costa Rica is the place, folks. This tropical, nature lover's paradise has managed to preserve a quarter of its land in national parks and protected areas for jaguars, crocodiles, monkeys, toucans, everybody. Also, it's relatively safe, healthy, and educated (perhaps because a president had the chutzpah to abolish the military in 1948).
Everywhere you turn, someone seems to be offering fresh coconut water right out of the husk, which is best accompanied with some of the country's delicious guaro, a sugarcane liquor. And the affable Costa Rican people, also known as the Ticos, embody their ubiquitous catchphrase — pura vida. It translates to "pure life" but can also mean "hello," "goodbye," "nice bathing suit," or just about anything else. Costa Rica is laid-back that way, until of course you find yourself on one of its extreme adventures, like whitewater rafting, mountain climbing, or scuba diving with hammerhead sharks. For such a tiny country, there's oodles of shoreline on the rich coast — 800 miles of it, in fact, on both the Pacific and the Caribbean. The beaches, waves, and sunsets seen from clifftops have a way of making the place feel a whole lot bigger. – Ashley Harrell, Thrillist contributor
Scotland
How tiny is it: 30,090 square miles
Or, roughly: South Carolina
Tiny fact: Was colonized by wankers.
Not technically its own country; post-Brexit it just needs a minute to mull another UK secession vote. Till then, it nonetheless feels like its own land. Trainspotting fans may favor Glasgow, with its luscious street art set against the old-Europe grime. Just as exhilarating is Edinburgh, the UK's true second city to London, and a city that demands you wear light, comfortable shoes. You're going to want to bounce to live ska and rock shows at clubs along Cowgate; or duck over to High St, literally, and try not to scuff your skull on the drop ceiling in front of the stage at Whistlebinkies. You're going to want to traipse up to Edinburgh Castle for some of the finest city views anywhere. And you're going to want to hike (or, if you're not feeling too many Innis & Gunns from the night previous, jog) to the peak of Arthur's Seat, the 800ft-tall faux-mountain that, along with the 12th-century castle, bookends the city's center.
Then, get out of town. Get a car and drive north, past the hallway-shaped Loch Ness, up to the land of peat and Scotch, ideally on one of the numerous days when the silver clouds shade the sun, and you can see ostensibly to the edge of the sky. Find a proper spot and get ready to clamber again: this time, up one of the shaggy-grassed hills that give the Highlands their name. This craggy country, famous for writers and engineers alike, has fantastic and inspiring views, yet it makes you work for 'em. No wonder the Scotsmen of yore pioneered the world's most comfortable climbing pants, still commonly in use today, in an array of plaids. – Sam Eifling, Thrillist Travel editor
Nepal
How tiny is it: 56,827 square miles
Or, roughly: Almost a West Virginia
Tiny fact: Nepalis celebrate their New Year in mid-April.
This colorful patch of mountains nestled between China and India is a fascinating blend of cultures: Buddhism and Hinduism, dizzying Himalayan peaks and sleepy backpacker towns, dreadlocked hippies and warm locals (with blessedly open hearts). For such a small country, Nepal has seen its share of turmoil: a royal massacre, a Maoist insurgency, and a devastating earthquake which last year killed thousands and toppled the historical squares in the Kathmandu Valley.
Nepal's political infrastructure has made rebuilding slow, but tourism can help the country recover faster. You'll still be able to experience the holy ritual of trekking across snowy peaks (Nepal claims eight of the world's 10 tallest mountains), or learn to paraglide in the clear skies above Lake Pokhara. Before you head off for your big adventure, don't forget to visit a temple to pray to Ganesha, the Hindu elephant god (overcomer of obstacles). Perhaps, you'll be blessed with a smile and a tika on your forehead from the wrinkled woman tending it. – Laura Yan, Thrillist contributor
Dominican Republic
How tiny is it: 18,704 square miles
Or, roughly: Two New Hampshires
Tiny fact: Some 83 Dominicans were on opening-day Major League Baseball rosters this year, about 10 percent of all MLB players.
Oh great, you say. The Dominican Republic. I think my aunt went on a package tour there last Easter. And you're half-right. (Probably. I don't know your aunt.) Millions of Americans are lured to the eastern part of the island of Hispaniola every year by cheap airfares and norovirus-rich all-you-can eat buffets. But if you'll promise to avoid Punta Cana and other all-inclusive resorts, you'll have a time worth remembering.
The modern-day Dominican Republic is where Europe, Africa, and the Americas have been colliding for five centuries now. You'll see, hear, smell, and taste some of the greatest products of that mashup in its pulsating capital, Santo Domingo, whose colonial zone is home to the first European cathedral, street, and pretty much everything else this side of the Atlantic. You can feel it at games of the most exciting baseball league in the world. And you can imagine those first steps of discovery on its endless stretches of beach (all public by law, though sometimes rich people will ignore this) — best among them the lesser-known gems like Bahía de las Águilas, a desert strand beside crystalline waters near the Haitian border, best accessed by fisherman's boat.
Above all, you'll hear the echoes in the music of the streets — the staccato creole Spanish of its people, and the merengue, bachata, and reggaeton music shaking the ground. Unlike the explorers and invaders who came before, including your aunt, you will have only one mission: drink the rum, lose your fear, and dance.
And yet: Some people may tell you not to go. For the past few years, under the pretense of cracking down on illegal immigration, the Dominican government has been hassling the million or so people of Haitian descent living in the Dominican Republic. Activist groups have called for tourism boycotts. The choice is yours, but here is an alternative take. Many Haitian immigrants and Dominicans of Haitian descent depend on tourism to survive, and if an economic crash comes, they will be among the first to suffer. Go and learn about the place, practice your Spanish, and come home rested, invigorated, informed. – Jonathan M. Katz, Thrillist contributor
Monaco
How tiny is it? 485 acres
Or, roughly: 40% the size of Central Park
Tiny fact: Citizens of Monaco aren't allowed to gamble in the famous Monte Carlo Casino — ensuring that the casino is only taking money from tourists.
If you throw the words "in Monaco" at the end of absolutely anything, it just soundsglamorous. Like if you said, "Yeah, I remember that time I had to go buy aluminum foil … IN MONACO" people would probably assume that aluminum was encrusted with precious emeralds.
The glitz and glamour associated with the city comes from its reputation as a tax haven for the world's elite. And the grand, Roman-inspired buildings, yachts floating in Port Hercules, and high-end shopping doesn't do much to dispel that reputation. After you don a tux and go all James Bond at the casino, though, you can do Monaco without going broke. Across the port from Monte Carlo is Monaco-ville, home to the old city, palace, and oceanographic museum. All of which can easily fill a day, and cost about the same as a day at your local history museum.
Restaurants here are all European charm, with outdoor cafes and authentic Italian pizza joints on literally every street. Most restaurants are reasonably priced, and the food is as spectacular as you'd expect from a country wedged between Italy and France. The casino might be intimidating, but on weeknights you can find 10 Euro minimum tables to gamble among the opulence. Or, if you're hell bent on saying you played roulette in Monte Carlo — and 10 Euros is a little steep — the locals' casino near the Fairmont has lower minimums, and is fun in a completely different way. – M.M.